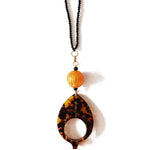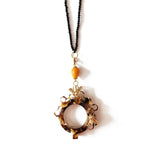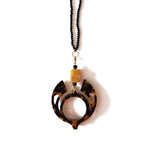 BLACK-GOLD GLASS NECKLACE
Regular Price

17.00 €

Sale Price

17.00 €

Regular Price

Unit Price

per 
Customize your Flippan'Look with our beautiful necklaces!

Give a different finish to your favorite glasses. Made with black faceted glass beads and gold finishes, they are the perfect complement to combine your Flippans with the most sophisticated and elegant looks.

By popular request, we bring you a new line of interchangeable necklaces so you can personalize your Flippan'Look pendants. With a simple click you can easily change the necklace to adapt it to any occasion: elegant, casual, beach, urban...

** the medallion is not included
Adapt your Flippan'Look for every occasion
100% original design and handmade
More details
Our interchangeable necklaces come finished with a lobster clasp so that it is easy to exchange them in any necklace.
You can give your Flippan'Look pendants a special and personalized touch with a simple "click".
Each Flippan'Look pendant has a hallmark that will always remain unique, and now we give you the possibility to adapt them to any occasion by changing the necklace for different styles: elegant, casual, fresh, serious...
* This is a new product and may not be compatible with products sold prior to its incorporation into our website.
We are redesigning our pendants to give you the option to easily interchange the collars, but some models may not have this option available.
If you have any questions about this, please contact us. Do not hesitate to contact us and we will try to help you.
Our interchangeable Flippan'Look necklaces are available in several options that we have carefully studied (listening to many of your suggestions) to make them as versatile as possible.
We will have several basic options always available, in crystal, chains or velvet, and we will be launching special seasonal editions.
All the necklaces are made by hand in our workshop and in high-quality materials to avoid allergies.
If you are allergic to any metal, please let us know, because although all the metals we use are nickel-free, following European regulations, some skins are more sensitive than others, so it is possible that may cause irritation.
What happens if I want the necklace for some Flippan'Look that I bought a while ago?

We have tried to make a design that suits all of our necklaces as well as possible, but in some cases it can be more difficult to clip because at that time our medallions were not designed for this purpose.
If you have any problems mounting your new necklace, let us know and we will try to find a solution.< br/>
Are the necklaces hypoallergenic?

In general, yes, the metals we use for our chains meet all quality standards. Spanish regulations are very strict in this regard, so none of our components contain toxic materials.

However, we understand that some people are more sensitive than other, so if any component causes an allergic reaction, contact us and we will find a solution.

Do you prepare gift orders?

Yes! We always prepare your orders with great care and love, but, in addition, you can include in the delivery notes that we prepare it for you with even more care.

Can I put a shipping address different from the one of billing?

Of course! When checking out, you can choose a shipping address other than the billing address, for example, if you want to surprise a loved one.

Is it safe to buy from through the web?

We are very careful to give our customers the best deal, and this includes incorporating 100% secure payment methods. Our payment gateways have anti-fraud detection systems, and also European regulations are very strict in this regard. You can check more details in our payment methods section.

What happens if it breaks?

Get in touch with us and we will look for a concrete solution to your problem.

Our guarantee is 12 months from receipt of the product, and within this period we guarantee either the replacement or repair of the damaged product.

How long does it take for my order to arrive?

Mainland Spainr: 1-3 business days< /p>
Europe: 3-5 business days
International: 7-12 business days.< /p>
Orders placed on business days before 11:59 AM CET (Central
Europe Time) will normally be shipped the same day. Orders placed
after 11:59 AM CET will ship the next day.
Do you ship worldwide?

Yes, we ship to any country in the world with some exceptions. Please keep in mind that some international shipments may have additional charges and fees at customs. We attach the necessary documentation for the bureaucratic process but any additional expense is borne by the buyer.
Let customers speak for us