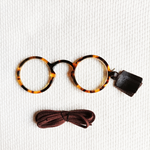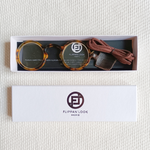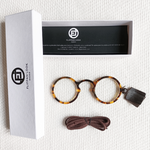 CAREY UOMO ROUND LORGNETTE
Regular Price

50.00 €

Sale Price

50.00 €

Regular Price

50.00 €

Unit Price

per 
Fed up with searching for your glasses in your bag or having to carry them in a case just to look at the restaurant menu?
This is the solution!
Inspired by the classic pince-nez of the 19th century, and with a John Lennon touch, perfect for giving a different touch to your look.
With its minimalist design and bold tones they will be the envy of all your friends!

100% safe lenses graduated at +2.00, suitable for all prescriptions
100% original design and handmade finished
More details
Our pendants-glasses are always graduated to +2.00.
Being an accessory for momentary use, it adapts well to all prescriptions between +1.00 and +3.00.
The idea is that you hold the glasses on your nose and adjust the distance of the text you want to read.
We opted for this graduation because after consulting several opticians we concluded that it is the most versatile for the use for which this accessory is intended.
It is specially designed for initial presbyopia, when it is not yet necessary to wear glasses all the time.
Even so, if you need more graduation, our frames are made of cellulose acetate, and an optician can graduate them without any problem.
Our pendants are presented in a signature case that guarantees their protection.
The frames are made of cellulose acetate, organic lenses and the necklaces vary depending on the model: brass, steel, leather, suede , velvet, crystal, mother-of-pearl, natural stones, wood, bone.
*All our necklaces are made by hand with materials purchased in Spain and complying with all European regulations.
**The design of the necklaces may vary as they are made with Handmade components and are subject to availability. We always try to maintain the essence of each model, since each necklace is carefully designed for each pendant.
Are they suitable for any graduation?

Our glasses are graduated with a magnifying effect of +2.00, an intermediate graduation recommended by specialists opticians and ophthalmologists as the most suitable for incipient presbyopia.

Being for occasional use, they are easily adapted for all graduations between +1.00 and +3.00, fixing the binocular on the nose and adjusting the distance from the label or menu, which is so resists us!

And if even so it is not enough graduation?

We only supply our prescription glasses at +2.00 because we consider that it adapts fine for occasional use for most users.

In case you need a little more graduation, our frames are made of cellulose acetate, the material traditionally used in eyewear optics. maximum quality. This means that your trusted optician can change the lenses without any problem and graduate them especially for you.

Are the lenses safe?

¡ Of course! Our organic lenses have the highest quality certificates. At Flippan'Look we want to take care of both your look and your eyes.

Are the necklaces hypoallergenic?

In general, yes, the metals that we use for our chains comply with all quality standards. Spanish regulations are very strict in this regard, so none of our components contain toxic materials.

However, we understand that some people are more sensitive than others, so if any component causes an allergic reaction, contact us and we will find a solution.

Do you prepare gift orders?

Yes! We always prepare your orders with great care, but, in addition, you can include in the delivery notes that we prepare it for you with even more care.

Can I put a shipping address different from the one of billing?

Of course! When checking out, you can choose a shipping address other than the billing address, for example, if you want to surprise a loved one.

Is it safe to buy from through the web?

We are very careful to give our customers the best deal, and this includes incorporating 100% secure payment methods. Our payment gateways have anti-fraud detection systems, and also European regulations are very strict in this regard. You can check more details in our payment methods section.

What happens if it breaks?

Get in touch with us and we will look for a concrete solution to your problem.

Our guarantee is 12 months from receipt of the product, and within this period we guarantee either the replacement or repair of the damaged product.

How long does my order take to arrive?

Mainland Spainr: 1-3 business days
Europe: 3-5 business days
International: 7-12 business days.
Orders placed on business days before 11:59 AM CET (Central Europe Time) will normally be shipped the same day. Orders placed after 11:59 AM CET will be shipped the day after.
Do you ship worldwide?

Yes, we ship to any country in the world with some exceptions. Please note that some international shipments may have additional customs fees and charges. We attach the necessary documentation for the bureaucratic process but any additional expenses are borne by the buyer.
Let customers speak for us
Own design and handmade process
100% own design
Our designer Sonia Marín develops the entire design process seeking inspiration in the natural world, art or architecture.
Handmade process
We make and assemble all our necklaces by hand in our workshop in Madrid, choosing special components for each design.
A packaging worthy of a jewel
Because we know you like beautiful things, we prepare our Flippans taking great care of the details.